Ms W supported us with 1 ticket

Mx P supported us with 1 ticket

Mx M supported us with 2 tickets

Mx M supported us with 1 ticket
---
0d 22h 15m

21 May 2022
---
Winner! Mrs W (PINNER)

Won £25.00!

Winner! Ms M (Harrow)

Won 3 extra tickets!

Winner! Mr T (HARROW)

Won 3 extra tickets!

Winner! Mrs B (Stanmore)

Won 3 extra tickets!

Winner! Ms R (LONDON)

Won 3 extra tickets!

Winner! Mr P (HARROW)

Won 3 extra tickets!
About us
Harrow Shopmobility is a registered charity which provides a much-needed service through the provision of the free loan of mobility equipment such as wheelchairs and scooters for persons with mobility issues, be they temporary or permanent.
Thus the services address mobility needs in cases where people are not able to walk or walk long distances through illness, age, through pre or post-surgery conditions or other reasons.
We need your help so that we can continue to offer this vital service which is relied upon by individuals and institutions to promote the independence, integration and wellbeing of our Community.
Without this service person with mobility issues would not be able to get about out of their homes or even within their homes in some instances. The loan of scooters and wheelchairs enables people with limited resources to access a free service for day use and longer term use of wheelchairs at a nominal amount.
The service enables people to access hospitals and other medical facilities.
The service enables people to become independent and free, not having to rely on others to accompany them.
Having their own space to do what they want when they want whilst retaining their dignity and integrating within society.
Allied to this is the social and wellbeing impact of using the service in that instead of being isolated at home, people are able to go out and engage with others and do things which they would not be able to do otherwise due to lack of mobility eg go shopping, meet a friend for coffee, go to the bank and attend social events such as weddings.
Our service currently has in excess of 200 Users and over four thousand people have used the service in the past 25 years the service has been in existence. It is open to everyone young and old.
Examples of Users:
Chris (Aged 13) used our wheelchairs to attend school after having broken his ankle playing rugby.
Jane who suffers from debilitating painful arthritis uses a scooter to meet friends for coffee, go to the cinema and to shop.
John who is undergoing cancer treatment borrows a wheelchair for home/general use and hospital visits.
Thank you for your support and good luck!
Gail Walter
Help us share our cause on social media
How the lottery works
That's right, unlike many other lotteries, our lottery tickets are only £1 per week.
50% to your chosen cause and 10% to other causes in Harrow.
Match all 6 numbers and you win the JACKPOT!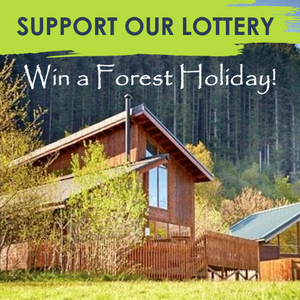 Win A £1000 Forest Holiday
Ever want to get away from it all? Well here's your chance - get your tickets before 25th June for your chance to win a fabulous Forest Holiday to the value of £1000! Choose from 12 different locations throughout the UK.